SciTech
India gets its first sewer cleaning machine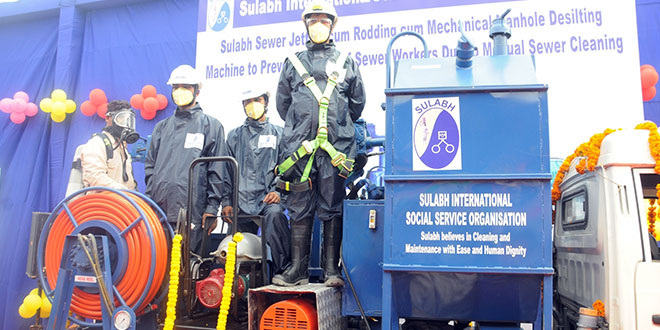 In order to reduce sewer deaths and put an end to the unsafe practice of manual scavenging, the Sulabh International on Monday introduced India's first "sewer cleaning machine".
The machine, Sulabh International founder Dr Bindeshwar Pathak said, "will do away with 99 per cent of manual scavenging" in the country, where at least one worker has died while cleaning sewers or septic tanks every five days since the beginning of 2017.
"With the machine, a worker won't have to enter the sewers. But if the need arises and a person has to go, then the machine is fully equipped with gas checking machine, protective gears and dress to protect the workers from harmful gases," Pathak told IANS.
The machine, which costs Rs 43 lakh, was unveiled on the occasion of World Toilet Day 2018 by the mayors of all the three Municipal Corporations of Delhi (MCD), in the presence of Delhi BJP President Manoj Tiwari and Pathak.
Speaking to the media, Manoj Tiwari said: "Now that the Sulabh founder has taken the initiative to bring the machine here, I request the Delhi government to buy more of such vehicles.
"I have also ordered the three MCDs to purchase more of these vehicles and complete the process within the next two months."
While briefing about the vehicle, Dr Pathak said the new machine is ideal for periodic mechanical desilting of manholes and to flush out sewer lines using the powerful jetting pump capable of producing 150 bar operating pressure and a flow of 150 litres per minute.
"It is also capable of de-choking sewer lines using specially designed flexible steel rods," he said, adding that the machine will ensure that no "safai karamchari" (manual cleaner) dies inside the sewer.
Talking to IANS, 40-year-old Usha Sharma, a safai karamchari, who has been cleaning toilets since the age of seven, said the machine would bring a huge relief to manual scavengers.
"I have lost count of my village's men and boys who died while cleaning sewers…but now all will be fine)," she said.
To avert such tragedies, Dr Pathak said the Sulabh sewer cleaning machine is electro-hydraulically operated, with personal protective devices and a quick-view pipe inspection camera which extends up to 20 feet.
"The quick-view pipe view camera is designed to felicitate inspection of manholes, sewer, tunnels, tanks, mainline and other lateral pipeline facilities with an outstanding zoom function (industrial HD camera), scalable carbon fibre rods and a sunlight presentable controller," he informed.