World
26/11 Mumbai attack anniversary: US announces $5 mn bounty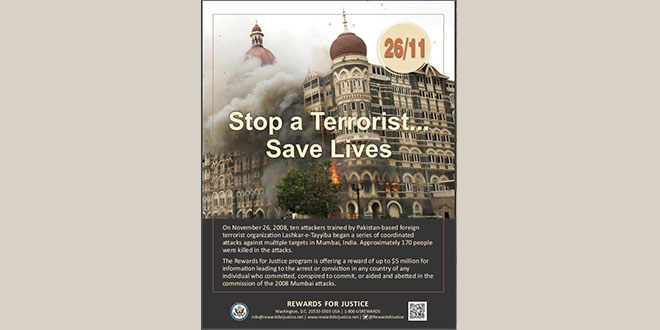 Timed for the tenth anniversary of the 2008 Mumbai attack on Monday, the US government has announced a $5 million-bounty covering all the terrorists connected with it.
The reward offered under the State Department's Rewards for Justice (RFJ) Programme is for "any individual who committed, conspired to commit, or aided or abetted in the execution" of the attack that killed 166 people, a Department media note said on Sunday.
This is the third RFJ bounty from the State Department on terrorists involved in the Mumbai attack carried out by the Lashkar-e-Taiba (LeT) as it casts a wider net beyond its leaders.
In 2012, the Department put a bounty of $10 million on LeT founder Hafiz Mohammad Saeed and $2 million on his deputy, Hafiz Abdul Rahman Makki.
The rewards have not worked so far and Saeed operates openly in Pakistan, leaving the effectiveness of the latest steps open to question.
Under international pressure, the Pakistani Punjab government put him under house arrest in January in 2017 but a review board headed by a Lahore High Court judge ordered his release in November that year.
Saeed has also been declared an international terrorist by the UN Security Council.
Before the Mumbai attack, the US had designated the LeT as a terrorist organisation in 2001 and imposed sanctions on it and the UN Security Council followed suit in 2005.
The RFJ website, which said the "reward offer extends to any individual who bears responsibility for this act of terror", mentioned four persons, who, it said, have been indicted by a US federal court.
They are Sajid Mir, Major Iqbal, Abu Qahafa and Mazhar Iqbal (alias Abu al-Qama).
The RJF website said that Mir was the handler for Pakistani-American terrorist David Coleman Headley, who was sent by the LeT on a spying mission to India to prepare for the attacks.
Ten heavily-armed terrorists, sneaked in through the Arabian Sea and attacked multiple locations within a small geographical area, killing 166 persons — including Indian security personnel and 26 foreign nationals — and left another 300 injured, besides inflicting huge damage to public and private properties.
Headley, whose original name was Daood Sayed Gilani, is serving a 35-year prison sentence in the US for his role in the Mumbai attack and in a terrorism conspiracy against a Danish newspaper.