National
Sushma says not contesting 2019 polls on health grounds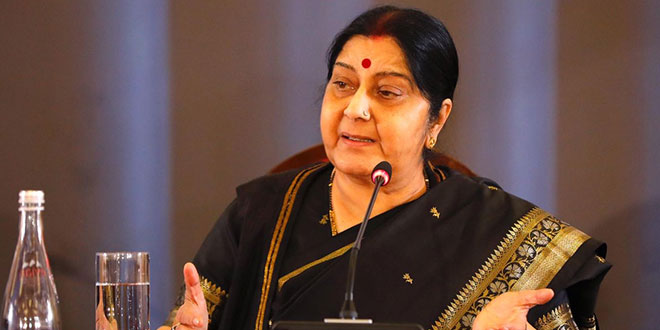 Citing health reasons, External Affairs Minister Sushma Swaraj, who was once touted as a prime ministerial candidate in the BJP, on Tuesday said she has decided not to contest the 2019 Lok Sabha election.
"Candidates are decided by the party. But I have made up my mind that I won't be contesting in the next elections," the senior Bharatiya Janata Party (BJP) leader said on the sidelines of an event here. "This is in keeping with my health."
The 66-year-old Sushma Swaraj, who underwent a kidney transplant in 2016, said she had conveyed her decision to the party.
The Vidisha MP's decision not to contest in 2019 came even as campaigning for the November 28 Assembly elections in Madhya Pradesh, where the BJP is seeking a fourth consecutive term in office, was in full swing.
A former spokesperson of the party, Sushma Swaraj was said to have been reticent in backing Modi when he was first appointed the Chief Campaigner for the BJP in 2013 ahead of the 2014 Lok Sabha elections but later made up with him to be included in his cabinet.
A prominent face of the BJP with her political career spanning for decades, Sushma Swaraj was the youngest member of the Haryana Assembly when she was elected to it in 1977 at age 25 and made a Minister.
She also served as Delhi's fifth Chief Minister in 1998, becoming its first women Chief Minister. She represented the South Delhi Lok Sabha constituency in 1996 and 1998.
She served as Union Cabinet Minister for Information and Broadcasting with additional charge of the Ministry of Telecommunications and Health Minister in Atal Bihari Vajpayee's second government.
Sushma Swaraj, a four-time Lok Sabha and two-time Rajya Sabha member, also won the Outstanding Parliamentarian Award in 2004 and served as the leader of the Opposition during during UPA-II government between 2009 to 2014. replacing party veteran L.K. Advani.