National
Mexico's highest honour for Indian academic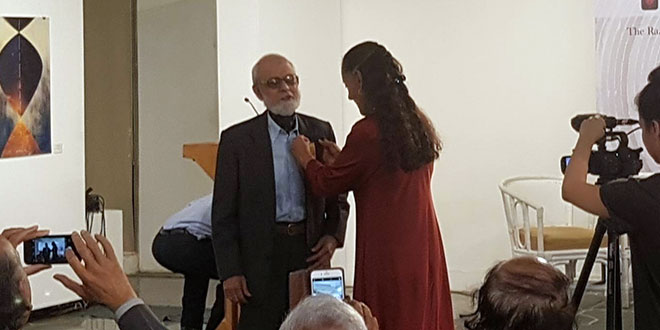 In a first for an Indian academic, Professor S.P. Ganguly, a well-known Hispanist who headed the Centre for Spanish and Latin American Studies at the Jawaharlal Nehru University here, has been awarded the Mexican Order of the Aztec Eagle, the highest civilian honour given to a foreigner by Mexico.
Ganguly was decorated with the striking gold-yellow insignia by Mexican Ambassador Melba Pria at a ceremony in the India International Centre (IIC) on Monday evening. The award was in recognition of his "outstanding work in the study and dissemination of the Spanish language and Mexican culture".
Describing him as "a pillar of this work", Ambassador Pria said Ganguly belonged to that first generation of a handful of Indian academics who "actually made everybody else interested in Spanish".
He has authored, edited and translated over 25 books in an academic career spanning 40 years.
"We built an edifice almost from scratch, but it will need more cementing from present and future scholars. I hope this award will pave the way for greater attention to India-Mexico and Indo-Latin American studies," Ganguly said after his conferment.
The award ceremony followed a seminar on late Mexican Nobel laureate Octavio Paz, who had constantly endeavoured to create bridges between India and his country.
Paz, who was a poet, diplomat and cultural historian, used to say that the India experience had completely transformed him. "His was a sentimental and intellectual engagement of the self with the other," said Ganguly.
The two-day seminar, "India Remembers Octavio Paz", was organized by the Mexican Embassy, the Raza Foundation and the Cervantes Institute in India.
Forty paintings by Mexican and Indian painters, based on their responses to Paz's poetry, were displayed during the event. Two books on Paz – one brought by the Raza Foundation and the other by Hyderabad University – were also released on the occasion.