National
Amritsar grenade attack kills three; DGP admits terror act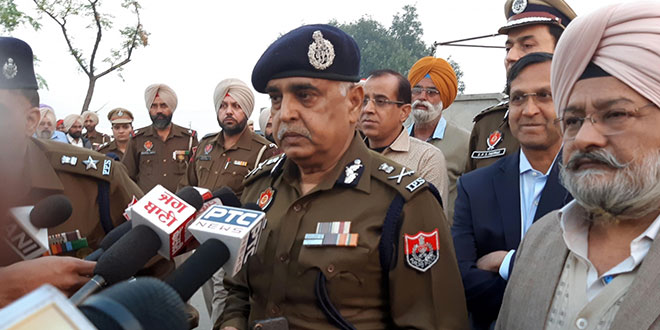 In a major terrorist incident, three people were killed and 20 others injured when two motorcycle-borne masked youths threw a grenade at a Nirankari congregation in Rajasansi area in Punjab's Amritsar district on Sunday, police said.
The grenade attack took place at the Nirankari Satsang Bhawan of the Nirankari sect in Adliwal village, about 15 km from Amritsar. The campus is located in Amritsar's rural belt, around three kilometres from the Guru Ram Das Jee Amritsar international airport.
The injured were rushed to hospitals in Amritsar. Two of them were in serious condition, police said.
All the victims were sect followers from nearby villages who had gathered for the Sunday weekly religious meeting.
Punjab Director General of Police Suresh Arora, who rushed to the spot along with senior Punjab Police officers, admitted that it was a "terror act".
"We are taking it as a terror act. This incident is against a group and not an individual. That's why we are taking it as a terror act. We did not have any specific input of a strike against any particular group," he told the media in Adliwal village.
Describing it as an unfortunate incident, Arora said that further investigations will reveal details about who was behind the attack.
Witnesses told the police that two youths on a motorcycle, their faces covered, forced entry to the sect campus by pointing a pistol at a woman volunteer at the gate.
"Everything happened within a couple of minutes. They got in, threw the grenade and fled," one man told the police.
Punjab Chief Minister Amarinder Singh on Sunday directed the police to immediately enhance security arrangements at all sensitive places, terming it as "the first such indiscriminate attack on innocent people in recent past".
"Preliminary investigations had so far revealed that two men, one of them with a flowing beard, with covered faces, allegedly forced their way into the hall by brandishing a pistol. They detained the sewadar, lobbed the grenade into the prayer room, and escaped on a motorcycle," he said.
A crater three inches in diameter was formed by the impact of the explosion and was being examined by the forensic team. The safety valve of the grenade has also been found, he said.
"The possibility of involvement of ISI-based Khalistani/Kashmiri terror groups cannot be ruled out. Police teams are investigating various angles," the Chief Minister said in a statement.
The attack on Sunday happened amid a high alert issued on November 14 by the Punjab Police regarding the movement of 6-7 terrorists in the state.
Punjab Police Inspector General (Border Range) S.P.S. Parmar said that all angles, about who could be behind the attack, were being investigated.
"The people had gathered for prayers. There were around 200 people. Preliminary reports suggest that the two persons threw one grenade. No firing took place," he said.
The Nirankari sect, with headquarters in Delhi, has millions of followers across the country and abroad.
In recent months, Khalistani and Kashmiri activists have been trying to foment trouble in Punjab, which shares a 553-km long barbed wire fenced international border with Pakistan.
The Punjab Police, along with the Jammu and Kashmir Police, had recently busted two modules of Kashmiri students who were studying in institutions in Punjab and having links to terrorist outfits in troubled Kashmir.
The Maqsudan police station was targeted by Kashmiri terrorists on September 14 this year with hand grenades though no one was injured in the attack.
Posters of Kashmiri terrorist Zakir Mussa had mysteriously appeared in Punjab's Gurdaspur district on Friday saying that he had been seen in Punjab.
The Chief Minister said he would ensure that the culprits were apprehended.
"Though the state had been hit by a series of cases of targeted attacks since 2015/16, this was the first attempt, in a long time, to disturb the peace in the state through indiscriminate killings. Pakistan is continuing with its nefarious activities to disturb the state's peace," Amarinder Singh said.
He pointed out that 15 such terror modules had been busted in the past 18 months, with Kashmiri terror links also indicated in some instances, as evidenced in the arrest of Kashmiri students from Jalandhar and in the Maqsudan police station grenade blast case.
The Chief Minister announced a compensation of Rs 5 lakh each to the kin of the dead.