National
Kushwaha meets Ahmed Patel, set to join grand alliance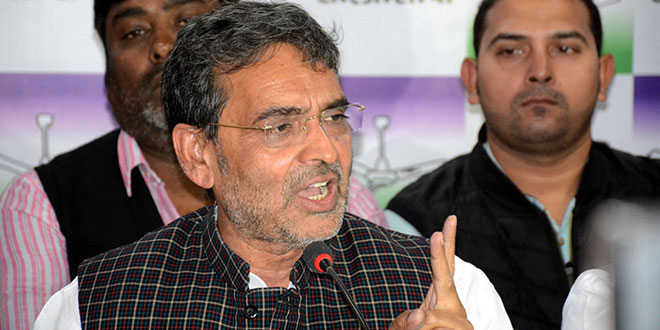 Rashtriya Lok Samata Party (RLSP) leader Upendra Kushwaha met Congress Treasurer Ahmed Patel here on Saturday amid indications that the former's party will join the grand alliance in Bihar soon.
RLSP spokesperson Madhav Anand told IANS that Patel came to meet Kushwaha at his residence and they discussed political issues concerning Bihar.
He said there was a possibility of Kushwaha also meeting Congress leaders Sonia Gandhi and Rahul Gandhi in the coming days.
Party sources said that an announcement of RLSP joining the grand alliance is expected soon.
Kushwaha had resigned as a Minister in the Narendra Modi government on December 10 and his party had also quit the ruling National Democratic Alliance.
Rashtriya Janata Dal, Congress and former Bihar Chief Minister Jitan Ram Manjhi's Hindustani Awam Morcha-Secular (HAM-S) are part of the grand alliance in Bihar.