World
Trump visits Pittsburgh synagogue amid protests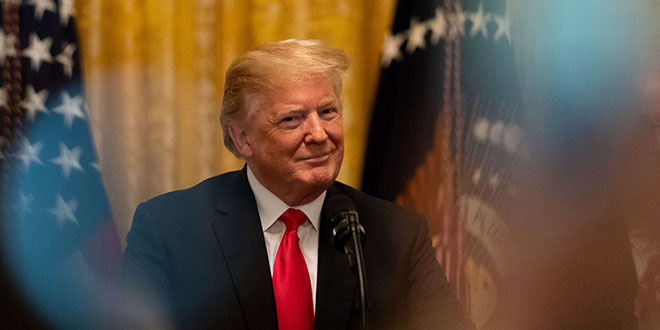 US President Donald Trump and First Lady Melania Trump visited the Pittsburgh synagogue where on the weekend a gunman who has espoused anti-Semitic views online massacred 11 people, while hundreds of protesters denounced the president's seeming reluctance to frankly and clearly condemn white supremacism.
As soon as Air Force One landed in Pittsburgh, Trump traveled to the Tree of Life synagogue, where the alleged shooter — Robert Bowers — burst in and opened fire on Saturday during a religious service, shouting "All Jews must die," Efe reported on Tuesday.
Accompanying the first couple to the synagogue were Trump's daughter Ivanka and her husband Jared Kushner, who are Jewish, along with US Treasury Secretary Steven Mnuchin, who professes the same faith.
Trump and his family members spent about 20 minutes inside and outside the synagogue, where they spoke with a rabbi and placed a white rose and a small stone — a Jewish tradition — on each of the Stars of David set up outside the temple in memory of the massacre victims.
The president and his wife lit candles inside the synagogue in honour of the victims, but they did not tour the entire building because it is classified as a crime scene and has been cordoned off so that investigators can go about their work gathering evidence.
Afterwards, the Trump family went to the University of Pittsburgh hospital, where they spoke with some of the people wounded in the shooting, including several law enforcement officers.
Meanwhile, hundreds of people gathered at two sites to protest the Trumps' visit to the city and their angry shouts and chants could be heard in the vicinity of the synagogue when the president was there.
The demonstrators carried signs bearing messages such as "President Hate, leave our state" and "Words matter," referring to what they consider to be Trump's tacit support for white supremacists like the man accused of committing the massacre.
More than 70,000 people nationwide on Tuesday signed a petition published on the Internet asking Trump not to come to Pittsburgh until he "fully denounce(s) white nationalism."
In the wake of the massacre, Trump has blamed the media — rather than his own strident rhetoric on Twitter and at campaign rallies — for the country's divisiveness.