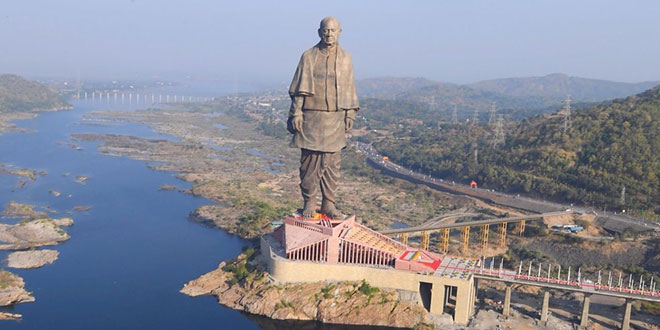 Prime Minister Narendra Modi on Wednesday unveiled the 182-metre high 'Statue of Unity' in honour of country's first Home Minister Sardar Vallabhbhai Patel, and dedicated it to the nation.
Built on Sadhu Bet Island on Narmada river, the imposing statue is touted to be the world's tallest.
The Rs 2,389 crore monument is a tribute to Patel who played a major role in integrating the princely states into the Indian Union after the partition of 1947.
It is almost 29 metres taller than China's Spring Temple Buddha that stands at 153 metres, and almost twice as high as the 93-metre Statue of Liberty in New York.
Three Indian Air Force planes flew past the Patel figure and created the tricolour in the sky after Modi inaugurated the giant.
The Gujarat government expects the statue to boost tourism, with one estimate putting the daily numbers at 15,000.
Apart from the Patel bronze figure, other major attractions include inauguration of a 17-km-long Valley of flowers, a Tent City for tourists near the statue and a museum dedicated to the life and times of Patel.
The Tent City, located around four km from the Statue of Unity can house more than 500 tourists in one go.
A viewing gallery at a height of 153 metres has been created inside the statue to enable tourists to have a view of 1,210 metre long concrete Sardar Sarovar Dam, 3.2 km upstream as well as the nearby Satpura and Vindhya mountain ranges.
As per a government statement, the statue has been built using over 70,000 tonnes of cement, 18,500 tonnes of reinforced steel, 6,000 tonnes of structural steel and 1,700 tonnes of bronze, which was used for the outer cladding of the structure.
Modi was accompanied by Chief Minister Vijay Rupani.