National
Talks, terror can't go together: Sushma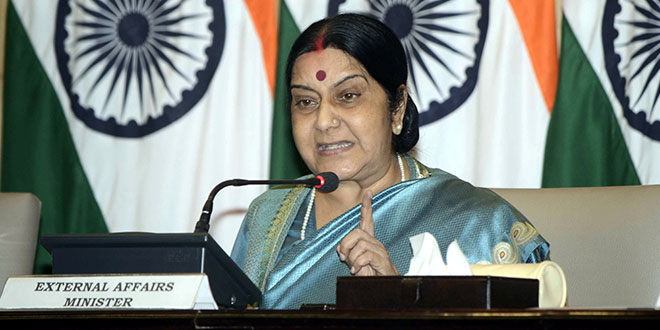 External Affairs Minister Sushma Swaraj on Wednesday ruled out any dialogue with Pakistan unless it stopped sponsoring terrorism, saying talks and terror cannot go together.
She said that though India welcomes the development of the Kartarpur corridor, it will not have any dialogue with Islamabad till it stops sponsoring terrorism.
The Minister stated this at a news conference here.
"Bilateral dialogues and Kartarpur corridor are two different things. I am very happy that for the last 20 years, rather many years, the government of India has been asking for this Kartarpur corridor and for the first time Pakistan responded positively," she said.
"But that doesn't mean that bilateral dialogue will start… We always say terror and talks can't go together. The moment Pakistan stops terrorist activities in India, the dialogue can start. The dialogue is not connected with only Kartarpur corridor," she added.
Sushma Swaraj also made it clear that India will not participate in the Saarc summit in Pakistan. She said India was not responding to the invitation from Pakistan to Prime Minister Narendra Modi for the summit.
"As I said, unless and until Pakistan stops terrorist activities in India, there will be no dialogue and we will not participate in Saarc," she added.
Sushma Swaraj said she could not attend Kartarpur ceremony because she was tied up with a visit Telangana.
She refused to comment on Punjab Minister Navjot Singh Sidhu's participation in the ceremony related to the corridor opening and referred to his statement that he was going there in his personal capacity.
The Minister said it was for the Punjab Chief Minister and Congress party to comment on Sidhu's participation.
Union Ministers Harsimrat Kaur Badal and Hardeep Puri are in Pakistan to attend the ceremony. Pakistan Prime Minister Imran Khan will perform the ground breaking ceremony for the project near the Kartarpur Sahib gurdwara, where Sikhism's founder, Guru Nanak Dev, spent the last 18 years of his life.