National
Modi slams Congress for lack of development in Mizoram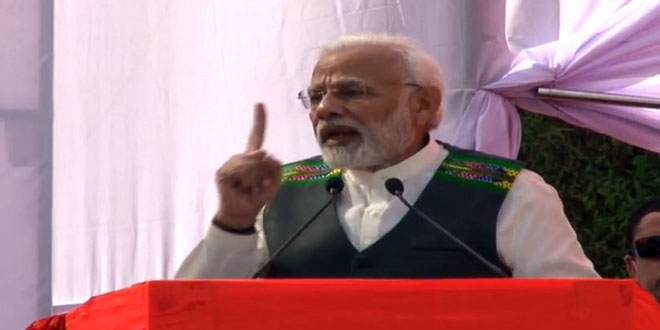 Targeting the lack of development and rising corruption in Mizoram during the Congress rule, Prime Minister Narendra Modi on Friday appealed to the people in the state to vote for the Bharatiya Janata Party (BJP).
Addressing a public rally here, the Prime Minister said that the BJP was the only choice left for the people of the hill state which has witnessed the worst corruption levels during the Congress rule.
"'Gati' (Speed) and 'pragati' (Development) is the focus of our government. While only 100 km of railway tracks were laid in northeastern states during the Congress rule, the BJP governments are laying railway tracks three times more now," said Modi.
"Apart from railway lines, new airports were also being constructed and old airports were being upgraded to remove the communication bottlenecks in the northeastern region. Works of over Rs 5,000 crore are being undertaken in the telecom sector," he said, adding that better connectivity would not only lead to ease of life but also boost the tourism sector.
Attacking Chief Minister Lalthanhawla, Modi said that while the Centre had sanctioned money for Mizoram, the Congress-led state government had not even bothered to utilise the funds.
"The state government has not been able to utilise funds sanctioned by the Centre. In many cases, the government has also failed to submit utilisation certificates against the funds used.
"The Chief Minister of Mizoram also holds the PWD and Power portfolios but people are still suffering in Mizoram due to bad roads. The state government has failed to harness the power potential. Late Prime Minister Atal Behari Vajpayee sanctioned the Turial dam project in 1998 but I could only dedicate the project to the people of the state last year," he said.
Modi said that Mizoram could become the third power surplus state in the northeast after Tripura and Sikkim if the Turial power project becomes fully functional.
"Due to the corrupt policies of the government, implementation of 28 of the total 46 centrally sponsored schemes were running behind schedule. Similarly, implementation of 20 of the 36 NEC sponsored schemes was running behind schedule," he said.
According to the Prime Minister, the state's New Land Use Policy was an example of corruption as "it testified how the Congress workers and Ministers benefited from it".
"Similarly, the New Economic Development Programme (NEDP) is also a scheme launched by the Congress government in Mizoram to favour party ministers, workers and their supporters".
The 40-seat Mizoram Assembly will go to the polls on November 28. Counting of votes will take place on December 11. Mizoram is the only state in the northeast where the Congress is ruling.