Sports
Messi, Bale on divergent path ahead of Clasicos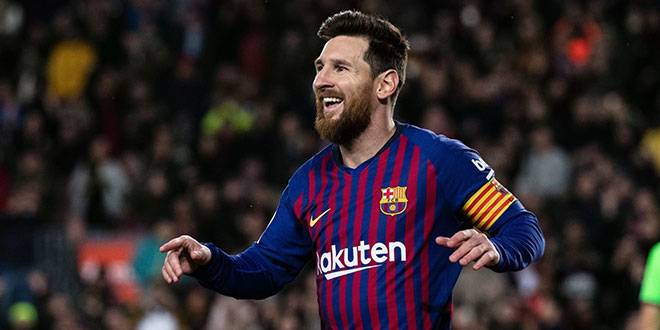 Barcelona's star forward Lionel Messi is set for a face-off with his Real Madrid counterpart Gareth Bale in this week's back-to-back Clasicos.
Messi is back to his normal form, powerful, sleek and dangerous, while an angry Bale has had a conflicted week after questions arose regarding his sportsmanship as a teammate and his commitment to the Madrid's squad.
Messi had another grand performance on Saturday, notching his 50th career hat-trick and assisted on another goal in the Catalan side's 4-2 away victory over Sevilla in La Liga, reports Efe news.
Bale also played well in Madrid's match, sealing the 2-1 win over Levante on Sunday in La Liga.
Yet, after the goal, in the midst of supposed celebration, the 29-year-old Welshman pushed the embracing arms of Spain midfielder Lucas Vazquez of his shoulder. It was an odd act and onlookers felt Bale was unhappy with his role at Madrid.
The Welsh international star was expected to come to prominence following Cristiano Ronaldo's departure over the summer from Madrid to Juventus, but it seems Bale's position as a substitute is set to continue under coach Santiago Solari's new system.
During his time with Madrid, Bale has often played as a substitute despite his historic overhead kick at the 2018 UEFA Champions League final in Kiev, Ukraine, which allowed Madrid to claim its 13th CL title.
Apparently, Bale cannot accept that the young Brazilian forward Vinicius Jr as well as Vazquez have taken the place he coveted on the starting line-up.
Yet, there are greater problems with Bale than just his playing. He has not ingratiated himself to the fan base or his Spanish teammates as he is yet to learn Spanish despite almost six years at the Santiago Bernabeu Stadium.
Bale's lack of popularity may be connected to his getting playing time as most large soccer clubs often play well-liked players over those with a bad attitude.
So far in 2019, Bale's career, unlike Messi's, appears to be on a downslide as he has reportedly left a match before its end at Bernabeu, missed a team dinner, and has consistently abstained from celebrating his goals.
Fans and teammates wonder how Bale will respond if he sets foot on the pitch in this week's upcoming two Clasicos.
In the lead-up to this week's games, Messi, on the other hand, appears ready for some more greatness on Madrid's home turf.
To date, the Argentine star has netted 15 goals in the 19 Clasicos he played at the Santiago Bernabeu Stadium, 10 of which he won with Barcelona, including three consecutive victories in the most recent three La Liga seasons.
Barcelona and Madrid will play each other twice, starting with the second leg of the Copa del Rey semi-final on Wednesday in Madrid.
The second clash is set to be in La Liga play, scheduled for Saturday, again at Madrid's home ground.
The teams are tied 1-1 after the first leg.