Sports
Kohli backs Rayudu for No. 4 spot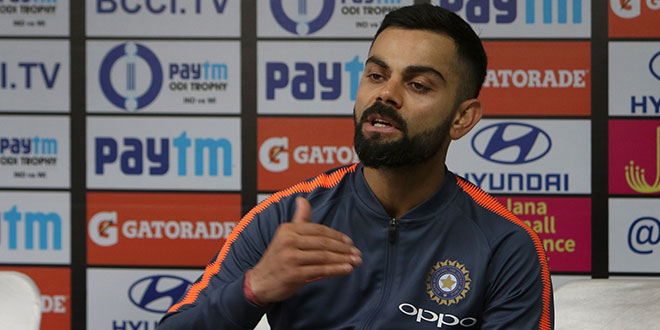 Indian skipper Virat Kohli on Saturday backed Ambati Rayudu for the number four slot ahead of their first ODI against the West Indies here.
"The team felt — and I also watched him — he is designed to play that middle order batsman role. We feel that our middle order is more or less balanced now," Kohli said on the eve of their match against West Indies.
"We believe he is the right person to capitalise on. He is experienced and has won many games for his state and also in the IPL. He has a great ODI record already for India. I think the batting order is sorted."
India are slated to play about 18-odd ODIs including the five-match series beginning at the Assam Cricket Association Barsapara Stadium here.
"Now these 18 games would be to give the perfect combination that we want to take into the World Cup," Kohli added.
Kohli said the challenge was only to find someone for the No 4 slot.
"With Rayudu coming in and playing well in the Asia Cup, it's about giving him enough game time till the World Cup that will particular slot will be sorted for us."
Rayudu scored 175 runs, averaging 43.75 from six innings in Kohli's absence in the Asia Cup.
"The only position we were trying to figure out was number four for a long time. We tried many players who unfortunately could not capitalise or cement their places in a way we wanted.
"Barring injuries or niggles, we want one combination to play through and through. Apart from bowlers resting here and there in ODIs, we only changed the No 4 slot because we wanted someone to cement the place," he said.
There has been criticism about Dhoni's waning batting ability and when asked if he was open to adjusting 5, 6, 7 slots, Kohli said: "Here, more often than not people want to create controversies out of nothing."
Kohli further said in the recent past, the bulk of the scoring was done by the top three batsmen so the lower order did not get much chance.
"Batting order is always ready, especially after four. The guys below four are always flexible in terms of the situation. You want the best thing for team. Being flexible is very very important," Kohli said.