Business
British travel giant Thomas Cook collapses as last-ditch rescue talks fail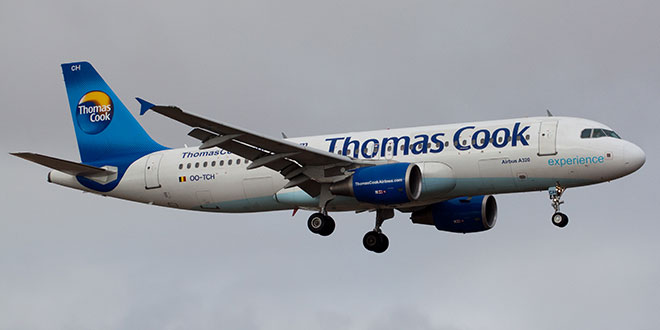 British travel giant Thomas Cook has collapsed after last-minute negotiations aimed at saving the 178-year-old holiday firm failed, the media reported on Monday.
The UK Civil Aviation Authority (CAA) said the tour operator has "ceased trading with immediate effect", the BBC reported.
The CAA said in a statement on Sunday night: "All Thomas Cook bookings, including flights and holidays, have now been cancelled.
"We know that a company with such long-standing history ceasing trading will be very distressing for its customers and employees and our thoughts are with everyone affected by this news."
One of the world's best known holiday brands, the business was founded in 1841 in Leicestershire by cabinet-maker Thomas Cook.
Peter Fankhauser, Thomas Cook's Chief Executive, said on Sunday night that the firm's collapse was a "matter of profound regret".
Commenting as the company entered compulsory liquidation, Fankhauser also apologised to the firm's "millions of customers, and thousands of employees".
The tour operator's failure puts 22,000 jobs at risk worldwide, including 9,000 in the UK.
The UK's Transport Secretary Grant Shapps said the company's collapse was "very sad news for staff and holidaymakers".
He urged holidaymakers to be "understanding with staff" amid the "enormous" task of bringing people home.
Shapps has announced that the government and CAA has hired dozens of charter planes to fly customers home free of charge.
The emergency operation, codenamed "Operation Matterhorn", is aiming to bring home more than 150,000 Britons currently on holiday with the firm.
Tim Johnson, policy director of the CAA, told BBC News it has chartered "more than 40" aircraft, which are already in position, to bring passengers home.
Thomas Cook had secured a 900 million pounds rescue deal led by its largest shareholder Chinese firm Fosun in August.
But a recent demand from its lending banks to raise a further 200 million pounds in contingency funding had put the deal in doubt.
Fosun said in a statement it was "disappointed" following news of the collapse.