Business
50% ATMs in India may shut by March, 2019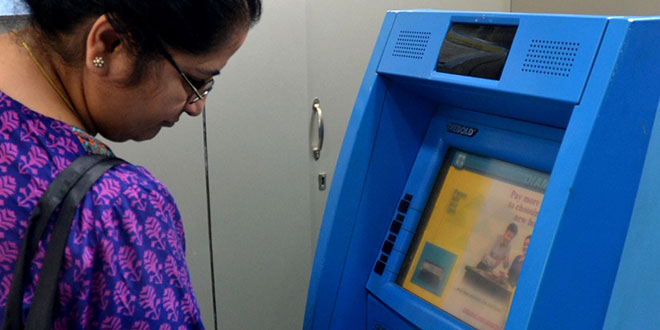 Nearly 50 percent of Automated Teller Machines (ATMs) may be shut down by March 2019 due to unviability of operations, hitting hard both urban and rural population, and dealing a blow to the digitization policy, the Confederation of ATM Industry (CATMi) warned on Wednesday.
Currently, India has approximately 238,000 ATMs installed, of which around 113,000 ATMs, including 100,000 off-site and more than 15,000 white label ATMs, are expected to down shutters, said CATMi Director V. Balasubramanian.
"This would severely impact millions of beneficiaries under the Pradhan Mantri Jan Dhan Yojana who withdraw subsidies in form of cash through ATMs, besides urban centres, resulting in snaky queues and chaos akin to post-demonetisation," Balasubramanian told IANS.
He said the CATMi step is forced on account of recent regulatory guidelines for ATMs hardware and software upgrades, recent mandates on cash management standards and the Cassette Swap method of loading cash, entailing huge investments by the industry.
Balasubramanian said to implement the Cassette Swap alone would need an additional outlay of Rs 3,500 crore for CATMi.
In April this year, the Reserve Bank of India (RBI) imposed stringent guidelines for ATMs service providers or their contractors followed by the Union Ministry of Home Affairs issuing similar directives vide gazette notification to be implemented by February 9.
These include a minimum net worth requirement of Rs 100 crore, minimum fleet size of 300 fully-equipped cash vans, two custodians and two armed guards plus a driver, GPS-CCTV, and later in June came the diktat for upgradation of the software from WindowXP to Window10.
"To implement all these security, software-hardware directive would entail an additional cost of minimum Rs 150,000 per ATM per month. This works out to astronomical figures for all the 238,000 ATMs in the country," Balasubramanian pointed out.
"However, the RBI-MHA directives are to be implemented by the banks which must bear the costs, but they are not willing to discuss the issue, leaving us to fend for ourselves. Accordingly, from January onwards, we shall progressively start shutting down the ATMs," he said.
Of the approximately 238,000 ATMs in the country, an average 10 percent are non-functional at any given point of time for various reasons.
However, to adequately cater to the entire country's population, the need is almost three-four times more, or around a million ATMs, says CATMi.
Of these (238,000 ATMs), nearly 80 percent are located in urban or semi-urban areas and the rest in rural areas.
Major industry players say that barring the metros and urban centres, people in states like Uttar Pradesh, Maharashtra, Bihar, West Bengal, Madhya Pradesh and others have to travel 40 km or more to access an ATM.
"Moreover, as per official data, barely 30 per cent of bank account holders in the country regularly use their ATM cards… the others prefer cash transactions. There are problems of infrastructure and connectivity which hamper growth of ATMs network," Balasubramanian said.
India has among the lowest ATM penetration globally, averaging 8.9 ATMs per 100,000 population, compared to Brazil's 119.6, Thailand's 78, South Africa's 60 and Malaysia's 56.4.
China has a staggering one million ATMs, which will touch 1.5 million by 2020.