National
Thackeray, family embark on Ayodhya political 'pilgrimage'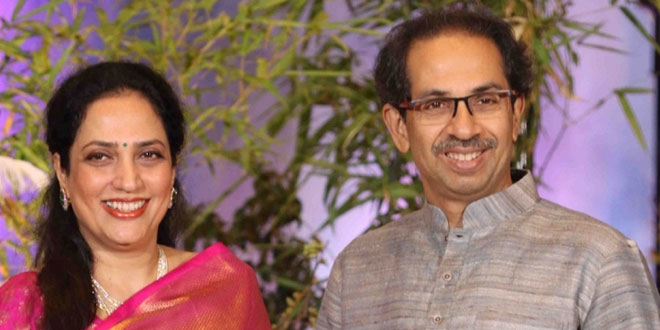 Shiv Sena President Uddhav Thackeray accompanied by his wife Rashmi and son Aditya, embarked on a high-profile visit to Ayodhya on Saturday, aimed at grabbing centre-stage in the demand for constructing the Ram Temple as elections approach.
They took a flight to Faizabad from where they will drive down for an engagement at the Laxman Killa in Ayodhya, and later perform a 'maha-aarti' on the banks of Sarayu river on Saturday evening.
At the Laxman Killa, he will be felicitated by a large number of Hindu holy men, besides common people and perform a puja there.
On Sunday morning, Thackeray will go for a darshan of Ram Lalla accompanied by local party leaders, sants and sadhus, interact with the media and later with the public, though plans for a public rally were not finalised yet.
For the Ayodhya visit, Thackeray is carrying an urn containing the earth from the Shivneri Fort – the birthplace of Chhatrapati Shivaji Maharaj in Pune district of Maharashtra.
Over 4,000 Shiv Sainiks from Maharashtra, besides more from other parts of the country have preceded him to Ayodhya since the past couple of days, a party spokesperson said.
Party leaders including Sanjay Raut, Ministers Eknath Shinde, Rajan Vichare, Mumbai Mayor Vishwanath Mahadeshwar and others have been camping in Ayodhya since the past few days to prepare for Thackeray's visit.
This will be the Thackerays' first-ever visit to the holy city, though in the past his father and founder of the Shiv Sena, the late Bal Thackeray had travelled to Uttar Pradesh on a couple of occasions.
The party's prime demand is to expedite the construction of the Ram Temple in Ayodhya by promulgating an Ordinance to the effect.
Upping the party stance on the issue, Thackeray had announced his plans to visit Ayodhya during his Dussehra rally here last month.
Coinciding with the visit, the Shiv Sena has organised prayer meetings and 'maha-aartis' all over Maharashtra with senior party leaders joining them. Representatives of the North Indian community here have also expressed support for the party.