National
Record July rain paralyses Mumbai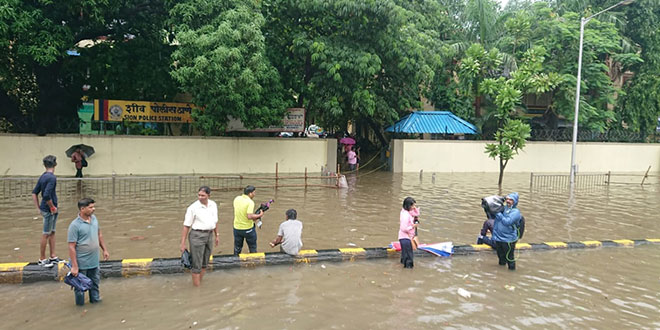 The Maharashtra government declared a precautionary public holiday on Tuesday in Mumbai after the Central Railway (CR) suspended services at several spots between Mumbai-Thane and suburban train services were disrupted on the Western Railway due to incessant record rain, officials said.
At average 375 mm, Monday's was the maximum July rain that Mumbai has seen over a 24-hour period breaking records since 1974.
The CR train services, which were earlier suspended between Thane-Kurla, were suspended from Chhatrapati Shivaji Maharaj Terminus to Thane due to tracks getting submerged at various locations on the route and delays were reported on WR suburban network.
Long-distance trains from different parts of India, expected to reach Mumbai, have also been stranded at various locations en route, details of which were awaited.
Flight operations at Mumbai's Chhatrapati Shivaji International Airport were severely hit due to heavy rains, while a Spicejet aircraft, carrying 167 passengers, overshot the runway shortly before midnight.
Till noon today, at least 55 incoming flights were diverted, including 26 international. There were 13 go-arounds, and cancellations of 18 incoming flights including four international and 24 departures including four international, said a spokesperson for Mumbai International Airport Ltd (MIAL).
Road traffic also continued to be sluggish for the second consecutive day in the city and the suburbs as many areas were waterlogged and the subways in Andheri, Jogeshwari, Vile Parle and Dahisar flooded.
A road caved in near a construction site in Chandivali and locals claimed that some people may have been washed away in the incident. A few vehicles and autorickshaws were stuck in the cave-in, which was at least 10 feet deep, said a local resident Pradeep Menon.
Chief Minister Devendra Fadnavis has appealed to people not to step out unless absolutely necessary in view of the continued downpour.
"In the past 12 hours, the city has received an unprecedented 300 to 400 mm rain, the highest in the past decade. The existing drainage systems are unable to cope with such a heavy downpour, coupled with a high tide this afternoon," Fadnavis told mediapersons.
The Indian Navy deployed rubber boats and a team of naval divers from INS Tanaji, armed with lifebouys, life-jackets and food packets, rescued around 1,000 people stranded in Kranti Nagar slums of Kurla.
With roads and trains — the main lifelines of millions of commuters in Mumbai — remaining practically out of bounds, the state government declared a precautionary holiday for the city on Tuesday.
Prior to that the BrihanMumbai Municipal Corporation (BMC) had declared a holiday for all schools and colleges, and the state government expanded it to include other parts of coastal Konkan region.
Fadnavis visited the BMC Disaster Cell and those injured in the Malad wall crash tragedy in hospitals.
Since dawn, heavy rain continued to lash the city, Thane, Raigad and Palghar districts with the IMD forecasting more rains till Friday, besides continuing downpour in Nashik and parts of Western Maharashtra, Ratnagiri and Sindhudurg.