National
Jagan injured in knife attack at Vizag airport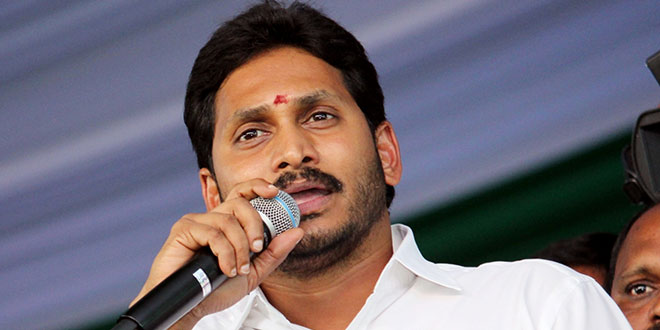 YSR Congress Party President Y.S. Jaganmohan Reddy on Thursday sustained a minor injury at the Visakhapatam airport in a knife attack by a young man who sneaked up to him with a request to take a selfie, police said.
The attacker, identified as Jaripalli Srinivas, works as a waiter at a restaurant at the airport.
As he suddenly took out a small knife from his pocket and stabbed Jagan, the YSR Congress leader was injured on his left shoulder.
A commandant of the Central Industrial Security Force (CISF) overpowered the attacker, who was handed over to police.
Jagan continued his journey to Hyderabad after getting first aid from the airport staff.
The incident triggered tension at the airport as scores of YSRCP activists gathered outside shouting slogans against Chief Minister N. Chandrababu Naidu and the TDP government.
Andhra Pradesh's Director General of Police R.P. Thakur said they were questioning the accused. He said a nine-page letter was found in the pocket of the attacker and they will soon reveal its contents.
The police chief said Srinivas claimed to be a fan of Jagan. "Prima facie it appears that he resorted to attack for publicity," he said.
The officer said the police had no role in the security measures inside the airport. He said it was for CISF to find out how the attacker managed to carry a knife into the airport.
A case has been registered by the police on a complaint by CISF.
Meanwhile, Jagan reached Hyderabad airport after 2.30 p.m. He was received his wife Y.S. Bharathi and other family members and YSRCP leaders.
A large number of Jagan's supporters gathered at the airport, raising slogans in his support. The CISF and police had a tough time in controlling the crowd. Amid tight security, Jagan was escorted to his car.
He later left for his residence in the city.
The YSRCP chief, who is on a state-wide 'padyatra' for nearly a year, visits Hyderabad every Friday to attend the court in the disproportionate assets case.
Currently visiting Visakhapatnam district, Jagan walked for five kilometres before reaching airport to catch a flight to Hyderabad.
Andhra Pradesh Deputy Chief Minister N. Chinna Rajappa condemned the attack. He said the details of the incident would be known by the evening.