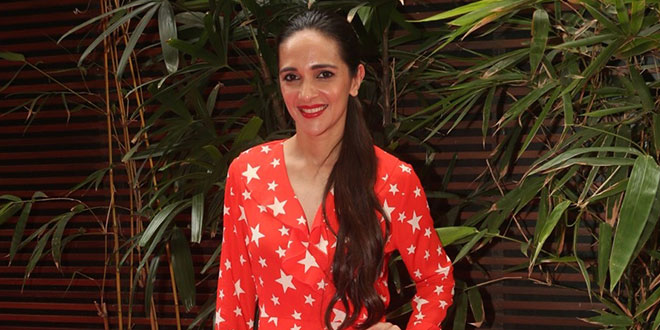 Actress Tara Sharma is happy to be the creator, writer and co-producer of her successful project "The Tara Sharma Show", but says once in a while it's nice to get offered a film with a good script. She has made her acting comeback with a short film and a feature movie, but she wants more.
Tara, who was once known as the Liril girl, made her Bollywood debut in 2002 with the multi-starrer "Om Jai Jagadish". She then featured in hit films like "Khosla Ka Ghosla", "Masti" and "Page 3".
She was last seen on the big screen in the 2012 film "10ml Love".
Now, she is back to acting.
"I have been tied up with my show and kids. But I have always wanted to act again. I think somewhere I lost confidence. Suddenly, out of the blue Anusha Bose (director of the short film 'Shame') called me up," Tara told IANS.
"She said 'There's a tiny role, but would you like to do it?' I said 'Sure'. I have never been a believer in size. I have been a believer in a good project. Even if I am a fly on the wall, I am happy to do it if it's a good project."
"It was short, but it was really fun. It kind of helped me to get back my confidence. It's very short, but a dramatic role."
Royal Stag Barrel Select Large Short Films showcased four short films, including "Shame" at the ongoing Jio MAMI 20th Mumbai Film Festival with Star.
Unfortunately, her other film, "Kadhakh", got removed from the fest's line-up in the wake of the #MeToo movement as the movie also has actor Rajat Kapoor, who was accused of sexual harassment.
Asked if it's unfair to others involved in the film, Tara said: "Of course, a movement has to create the right impact positively on the society. Unfortunately, there is a lot of collateral damage. So, when a film is removed, a lot of people suffer.
"What is right or wrong, I am nobody to comment. It is disappointing for us."
Nevertheless, Tara is thrilled to be a part of the feature film and doing a "bigger role. I am inching towards acting more and more. I hope to do more movies".
Since she is a mother now, she feels she has more in her to give as an actor.
"I feel so many things – giving birth, growing up in many ways, living life more … My father passed away. There's so much emotion," she said.