Business
Delhi petrol pumps to shut for 24 hours starting Monday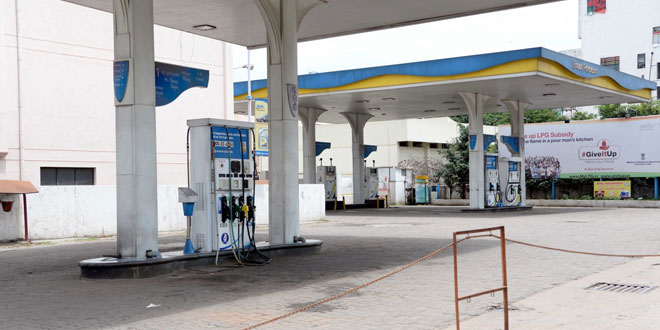 Fuel pumps in the national capital will remain shut for 24 hours starting Monday 6 a.m. to press the Delhi government to lower value-added tax (VAT) on the key transport fuels.
The central government as well as several state governments, including Haryana and Uttar Pradesh, slashed fuel prices, but the Delhi government refused to cut VAT, making the fuels costlier in the national capital. This has caused losses ranging between 20 per cent and 30 per cent, as commuters prefer to get their vehicle-fuel tanks filled at a fuel station in the neighbouring cities, the Delhi Petrol Dealers Association (DPDA) said on Sunday.
Last month, the Centre slashed the rate of petrol and diesel by Rs 2.50 per litre each, which was followed by the reduction in VAT by many states.
"In comparison to Delhi, petrol in UP and Haryana is cheaper by Rs 2.59 and Rs 1.95 per litre, respectively, while diesel in these two states is cheaper by Rs 2.02 and Rs 1.72 per litre, respectively," DPDA President Singhania had told reporters earlier in the week.
"Because of high price in Delhi and low prices in states like Uttar Pradesh and Haryana, customers are deserting the petrol pumps in Delhi, leading to a huge drop in sales," he said.
According to Singhania, the price difference has caused a sharp drop of 50-60 per cent in sale of diesel and 25 per cent in petrol in Delhi during the current quarter.
"Almost 200 pumps out of 400 could be on the verge of shutting down, leading to retrenchment of thousands of workers and affecting lakhs of people in the city," he said.
The dealers' body also pointed to the bigger concern about the environment-friendly Euro-VI grade fuel being currently available only in the National Capital Territory (NCT) and the risks of consumers choosing the cheaper, dirtier fuels.
"Environment-friendly Euro VI fuel is available only in NCT of Delhi and produces 80 per cent less emissions than Euro IV fuels. There is also an apprehension of inter-state smuggling of inferior Euro IV fuel in the city," Singhania said, adding that Delhi's pollution worsens during the winter months.
"There are about 400 petrol pumps in Delhi which also have linked CNG pumps. Both will remain closed from 6 a.m. on October 22 to 5 a.m. on October 23," the DPDA statement said.
Meanwhile, state-run oil marketing companies cut the prices of petrol and diesel for a fourth consecutive day on Sunday amid lower global crude oil prices.
According to the IndianOil Corp data, petrol price was cut by 25 paise and diesel by 17 paise. Petrol was selling at Rs 81.74 a litre, while diesel cost Rs 75.19 per litre in the national capital.