National
Dairy farmers poured hundreds of litres of milk on the road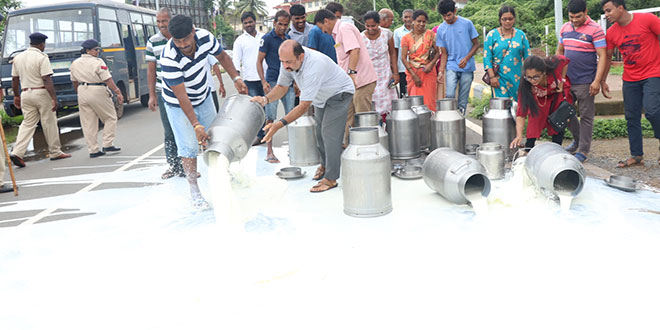 Dairy farmers on Monday poured hundreds of litres of milk on the road outside the Goa Assembly complex in a symbolic protest against the rejection of nearly 4,000 litres of milk by the Gujarat-based Surat Milk Union Ltd (SUMUL).
The dairy farmers from the Bicholim sub district said that they were forced to pour away the milk, because the police refused to allow them to carry samples of their produce to the MLAs as the Assembly's monsoon session began.
"We wanted to give our milk which was rejected by SUMUL to our MLAs, but the police refused to let us enter, which forced us to empty our milk cans on the road," Meghashyam Raut, a spokesperson for the dairy farmers, told reporters outside the assembly complex.
SUMUL and Goa Dairy are two major dairy operations in Goa. The dairy farmers claimed that on Monday morning, SUMUL milk procurers had claimed that the milk which was routinely supplied by the dairy farmers did not clear their quality control tests.