World
67 killed, 126 injured in polling day violence in Afghanistan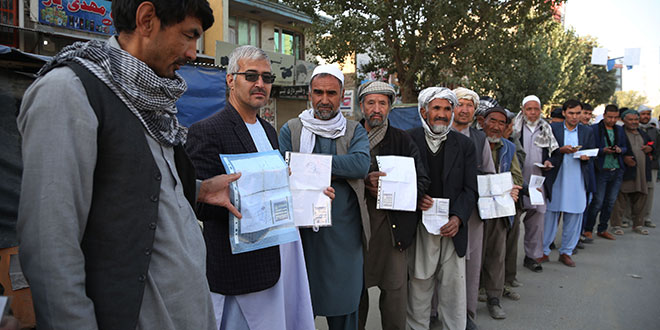 At least 67 people were killed — 27 civilians, nine members of security forces and 31 insurgents — and 126 injured in 193 attacks carried out throughout Afghanistan by the Taliban, who had threatened to target Saturday's parliamentary elections, which were held three years late.
The 193 attacks against security forces and polling centres began at around 7 a.m and continued until at least 6 p.m, Deputy Interior Minister Akhtar Mohammad Ibrahimi told a press conference, reports Efe.
The attacks include a suicide blast in Kabul, 76 raids against polling centres throughout the country, a dozen explosions near those polling centres, as well as armed fighting between the Taliban and Afghan security forces.
As a result of these attacks, 27 civilians were killed and close to 100 were wounded, while at least nine members of the security forces died and 25 were injured, Ibrahimi said.
In addition, 31 Taliban insurgents were killed and 18 were arrested, he said.
According to the Deputy Interior Minister, the number of attacks on Saturday represent half of those that took place in 2014 during the presidential elections.
Despite the violence, presidential spokesman Haroon Chakhansori described the elections as a "success" and a "defeat for terrorists".
According to Afghanistan's Ministry of Interior, authorities deployed 70,000 soldiers and police officers to provide security during Saturday's election.
The Taliban warned Afghans that they would target all polling booths and urged people against voting.
"Enemy's polling stations all over the country are under attack by Mujahideen, countrymen must refrain from taking part in this fake process to save their lives and not to become a tool for the implementation of the evil plans of the enemy," Taliban spokesperson Zabihullah Mujahid said in a statement.
Another Taliban spokesman Qari Yousef Ahmadi claimed that 400 attacks were carried out, in which "dozens of soldiers and police were killed or injured," adding that "the elections failed".
The elections were initially planned to take place in 2015, but were delayed for three years due to security challenges and political and economic instability.
These elections have been seen as a test regarding the state of Afghanistan's fragile democracy, as well as a trial ahead of the presidential elections set to take place in April 2019.
This was the first time that the Afghan government was responsible for security during an election since NATO ended its combat operations in the country in 2014.