Travelogues
Tryst with the Tiger
We landed up one cold December afternoon in Kaziranga. Soon the sun set across the sand banks of Brahmaputra.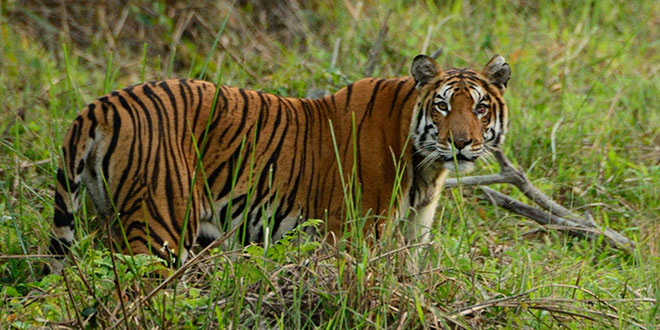 "Rhinos yes…. elephants yes…. Hog Deer yes…. even probably a Bengal Florican…. Tigers NO", I said emphatically.
Ujjalda gave a sigh of resignation. He had just bought a brand new Sony for his first sojourn to Kaziranga National Park or for that matter, any National Park and he was hoping to start his shooting spree with the striped cat. I bunged a spanner in his hopes.
Anyway, he was not going to cancel a trip to the World Heritage Site just because a tiger shot was almost out of question. I have had numerous trips to the fabled land but never got a whiff of even their tail even though they are there…. in large numbers. The terrain of Kaziranga is not conducive to the sighting of a tiger because the tall Elephant Grass can swallow up even their namesake – the elephant. Tigers in Kaziranga by nature are extremely shy and nocturnal and hence the sightings are minimal unlike the ramp walkers of Ranthambore, Kanha or Tadoba.
Ujjalda and I had company. Sanjeet Mangat, one of the most eminent wildlife photographers of India. We had toured Kazi (as I fondly call Kaziranga) previously without the benefit of a sighting of tiger but he too was not to be deterred. His ambition was to photograph at least one tiger from each National Park of India and Kazi still eluded him.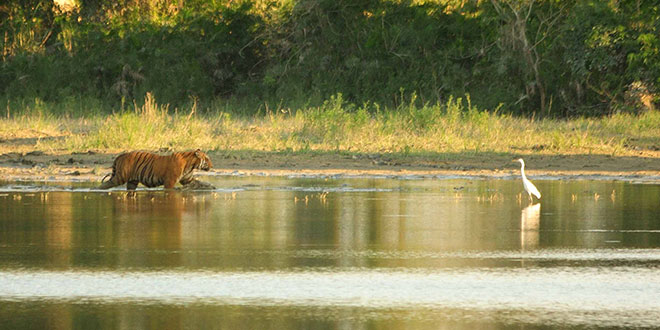 So we landed up one cold December afternoon in Kaziranga. Soon the sun set across the sand banks of Brahmaputra. The sand grew cold fast and wisps of mist rose in the air with that smell of raw earth so typical of winter in Kaziranga. Our resort/camp was situated right adjacent to the sand banks with the jungle starting hardly hundred metres away.  The cold set in and Rambabu, our man for all purposes, got a roaring log fire going with some marinated chicken by the side. The stars came out one by one and the wood smoke mingled with the smell of the roasting chicken as we discussed the stubbornness of tigers of Kazi not showing up. Gautam my friend / owner / wildlife freak and a thoroughly crazy man listened to our sighs and self pity about the time we missed the tiger but saw the pug marks or heard the alarm calls from Hog Deer but nobody showed up. He just listened.
Next morning safari threw up the usual shots…. some good…. some bad…. some horrible. Afternoon safari was about to start but with a difference. Gautam was at the wheels. Now, if anybody has driven with Gautam in a safari will forever remember the experience. His usual method was to drive keeping his right foot on the accelerator while he attended to his mobile calls, sometimes holding the steering wheel, looking up at the tree tops for birds and quite often looking behind, talking to me. All the while the Gypsy seemed to drive itself by sheer psychological control. Schumacher might have taken a correspondence course from Gautam in the art of blind driving.
At the gate we picked up the best Forest Guard – Debeshwar. Then we kept driving without stopping to look at the Swamp Deer or the elephant herds. We drove past the tree where the Pallas's Fish Eagle was building its nest and down past the water body where the otters rested. We did not ask Gautam where he was heading or what he was up to since in addition to being crazy, he does not like being questioned. Only Ujjalda was getting excited at missing all the wildlife he was failing to capture but he too was kept subdued.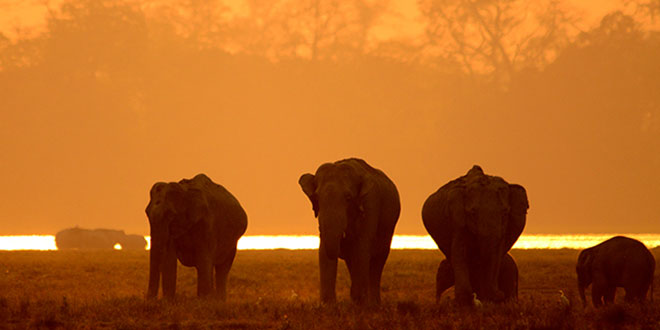 At one point the forest road takes a sharp right turn and leads on to a large water body surrounded by tall grass on the right hand side. On the left the forest was dense. When we reached a particular clearing, Gautam stopped the Gypsy and switched off the ignition.
"What happened? Why did you stop?", this time I asked.
"Something might happen here", replied Gautam and leaned comfortably back in his driver's seat.
I looked around. It was past three thirty and even the December sun was beating down harshly. The water body simmered in the lazy heat. A herd of Hog Deer grazed peacefully around the water. Grey-headed Fish Eagle circled overhead looking for a late lunch. A Golden-fronted Leafbird landed on a berry tree nearby with its flashy colours. Jewel bugs hummed in the bushes around with their brilliantly coloured green wings. Everything was peaceful and quiet.
I looked at Sanjeet and he looked back at me and rolled his eyes. Ujjalda had a puzzled look on his face and Debeshwar busied himself looking for a Brown Fish Owl which usually perches on a tree on the left. Time went by. Sanjeet pulled his classy hat over his eyes, gave a sigh and putting his legs up on the seat went off to sleep. I looked at my watch and it was past four. Ujjalda sat in the middle fiddling with his camera. In the winter heat I too soon nodded off.
Click click click click click…. the shutter went off next to my ear like a stuttering machine gun and brought me back to this world. Startled I looked towards my left and there was Ujjalda breathing strenuously and holding his camera to his eyes. His index finger seemed like it had got glued to his camera shutter. He sensed that I was looking at him in bewilderment.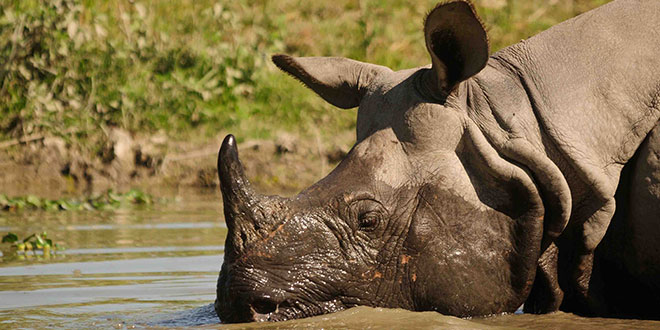 "Tiger…. tiger", he croaked hoarsely without taking his eye or finger off the camera. His lens was pointed towards the water body. Giving him a dismissive laugh I looked towards the direction of his lens and the biggest tiger I had ever seen was right in the middle.
Picking up my camera I shook and woke up Sanjeet. The frenzy on the Gypsy at that moment would have resembled the German garrisons guarding Normandy in World War II when they sighted the Allied Armada approaching. Sanjeet groped for his massive lens frantically. My hand was shaking so badly that I could not find the shutter button. Ujjalda was trying shoot between Sanjeet's flailing hands and mine. Gautam was groping for his bean bag to place his camera. Only Debeshwar maintained his composure.
Kazi tigers when they decide to show up generally give you three and a half seconds before vanishing but this horse of a tiger crossed the water body, went to the other side, came back to the middle and paused and then finally disappeared across the middle, giving us about three minutes. Since the washed out light was from the wrong side and the distance between us was quite great even for large lenses, the images that came out were somewhat lacking in punch but what the heck…. a diamond is a diamond and a Kazi tiger is a Kazi tiger.
By the time we were on the way back the sun had almost set and we felt like we were high on some drug…. a tiger and on top of that a Kazi tiger sighting has that effect on you. As we were passing by a large canal-like water channel, suddenly an elephant trumpeted in alarm from the grassland on the opposite side and Gautam almost stood on the brakes. Then there was absolute quiet. Nothing moved…. nothing stirred. Gautam asked us to focus on a small barren patch of land on the edge of the water. The light was already gone. The tall grass had swallowed up the elephant. Nothing else was in sight. There wasn't even a ripple in the calm waters of the canal.
….and then the head popped out at exactly the spot Gautam had pointed, stayed for about three and a half seconds, our camera shutters went berserk and then the stripes vanished. My camera showed an orange smudge, Ujjalda's showed nothing but Sanjeet had a couple of shots which identified it as a young tigress.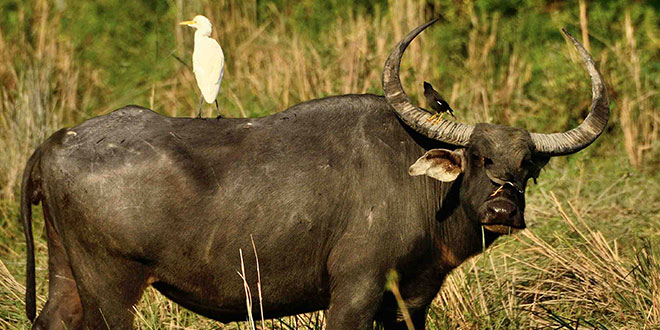 Rarely has a roasted chicken or a thick slab of Rohu fish with lai saag cooked in wood fire tasted so delicious as the one we had in the evening. India's National Animal had rarely shown themselves twice within a span of twenty minutes in Kazi. Since that first time after so many failed attempts, tiger sighting in Kaziranga has almost become a habit for me but the thrill of the first meet is always sweeter than the rest. Kaziranga is paradise indeed.
Just as a footnote, we went in for the next safari in the morning and there were about twenty Gypsys lined up near the first tiger sighting point. On enquiring one of the tourists told us somewhat patronisingly, "this is the place where two tigers were sighted yesterday by somebody".
(An article written by Pralay Lahiry. Can be contacted at pralaylahiry@mywildindia.com and on +919830448569)