National
Modi, Manmohan, Sonia, Rahul pay tributes to Indira Gandhi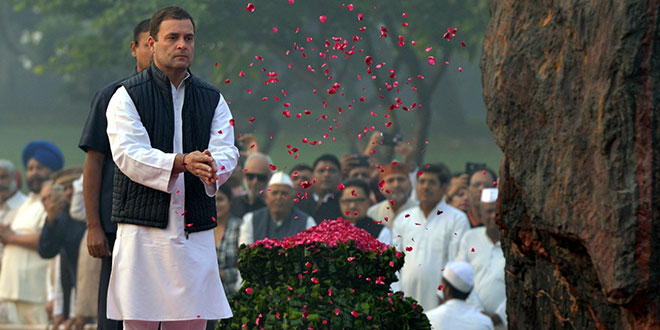 Prime Minister Narendra Modi, his predecessor Manmohan Singh, Congress President Rahul Gandhi and UPA Chairperson Sonia Gandhi were among those who paid tributes to late Prime Minister Indira Gandhi on her 34th death anniversary on Wednesday.
Former President Pranab Mukherjee and former Vice President Hamid Ansari also paid tributes and visited Indira Gandhi's Memorial at Shakti Sthal here where a prayer meeting was organised.
Congress leaders including Rahul Gandhi, Sonia Gandhi and Manmohan Singh also visited the memorial of India's first woman prime minister.
Rahul Gandhi, recalling his association with his grandmother, tweeted: "Remembering dadi (grandma) today with a deep sense of happiness. She taught me so much and gave me unending love. She gave so much of herself to her people. I am very proud of her."
Modi paid tribute to the "Iron Lady of India" through a tweet saying, "Tributes to our former Prime Minister, Indira Gandhi on her death anniversary."
The Congress, on its official Twitter handle, said Indira Gandhi was one of the strongest leaders of the country.
"Through her premiership, our nation saw great victory, incredible development and most importantly upliftment of all sections of society," the party tweeted.
On October 31, 1984, two of Indira Gandhi's bodyguards — Satwant Singh and Beant Singh — shot her at her official residence.