World
2 killed in France Christmas market 'terror attack'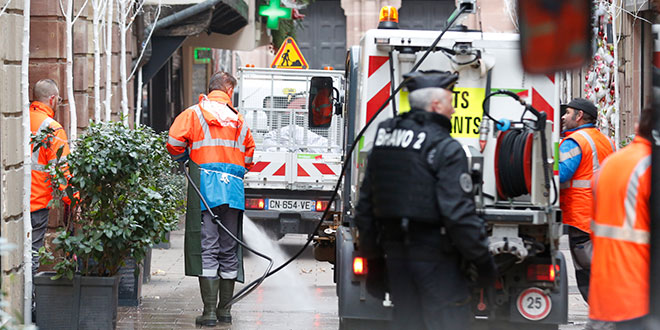 A gunman shouting "Allahu Akbar" opened fire near a Christmas market in the French city of Strasbourg, killing two people in an incident believed to be a "terrorist attack", prosecutors said on Wednesday.
The suspect, identified as 29-year-old Cherif C, killed two people in the Tuesday night attack and left one on life support with no chance of recovery, said Paris prosecutor Remy Heitz. He later fled the scene but was injured by troops.
The police had previously said three people were killed and 13 were injured in the incident.
"Given the targeted place, the attacker's operating way, his profile and testimonies collected from those who heard him shout 'Allahu Akbar', the anti-terrorist section of the Paris prosecutor's office … opens an inquiry into attempt of assassination linked to a terrorist enterprise," Heitz said.
The gunman — who remains on the run — has an extensive criminal background that includes 27 convictions in France, Germany, and Switzerland, mainly for acts of robbery and violence, CNN reported.
More than 350 police gendarmes and soldiers supported by air units were mobilized to find the suspect, who was already known to security services as a possible threat, the police said.
Raids were conducted on places he frequented and led to the arrests of four people, officials were cited as saying by Efe news.
The attack prompted France to raise its national security threat level to its highest "emergency terror attack" status.
"What happened last night is unquestionably an attack, a form of terrorist attack," Strasbourg Mayor Roland Ries told CNN.
Strasbourg's famed Christmas Market is one of the oldest in Europe and draws millions of visitors each year.
The suspect entered the perimetre of the market by the city's Corbeau Bridge and used an automatic weapon and knife to launch an attack on several people on the Rue des Orfevres at 8 p.m.
Cherif C subsequently fired on four soldiers who were out on patrol. They responded with gunfire, injuring him in the arm. He fled the scene in a taxi and asked to be taken to the Neudorf neighbourhood, without giving a specific address, reports say.
According to the prosecutor, he told the taxi driver he had shot and killed 10 people.